Sleek, Purpose-Built Design
Sleek, attractive design and premium features replaces the ordinary garage door opener with an aesthetically pleasing and highly-functional smart home device. This updated smart home design with advanced integrated LED lighting can't be found in garage openers at big box stores or competitor offerings.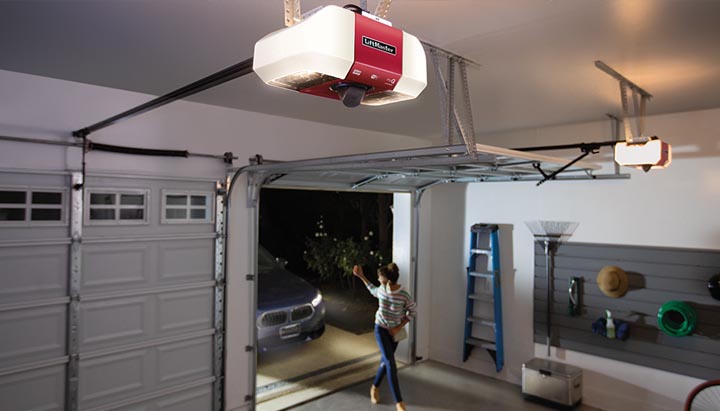 Enhanced myQ Connectivity
Enhanced myQ technology makes it easy to link to the myQ app to control, secure and monitor your garage from anywhere. It enables convenient access experiences and keeps track of your garage door and garage opener health for quick and easy service repairs when needed.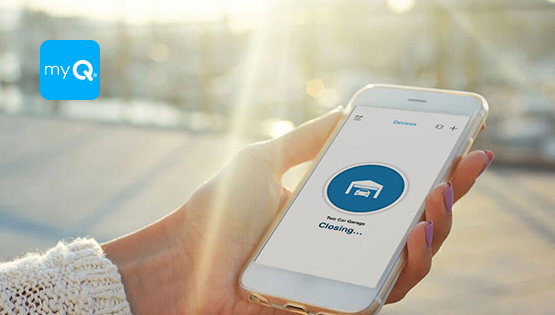 Real-Time Diagnostics
Know right away if there is an issue with your garage door and take the hassle out of service repairs by easily connecting with a trusted dealer through the myQ app. Conveniently share your myQ Diagnostics™ report to ensure for a rapid repair.
Integrated LED Lighting
LiftMaster's new line of next gen garage door openers include units with a 2,000 lumens Corner to Corner Lighting system that provides a 360° ring of LED light to uniformly brighten every corner of the garage or a dual lighting system with 1500 lumens of long-lasting LED light that brightens high traffic areas of the garage.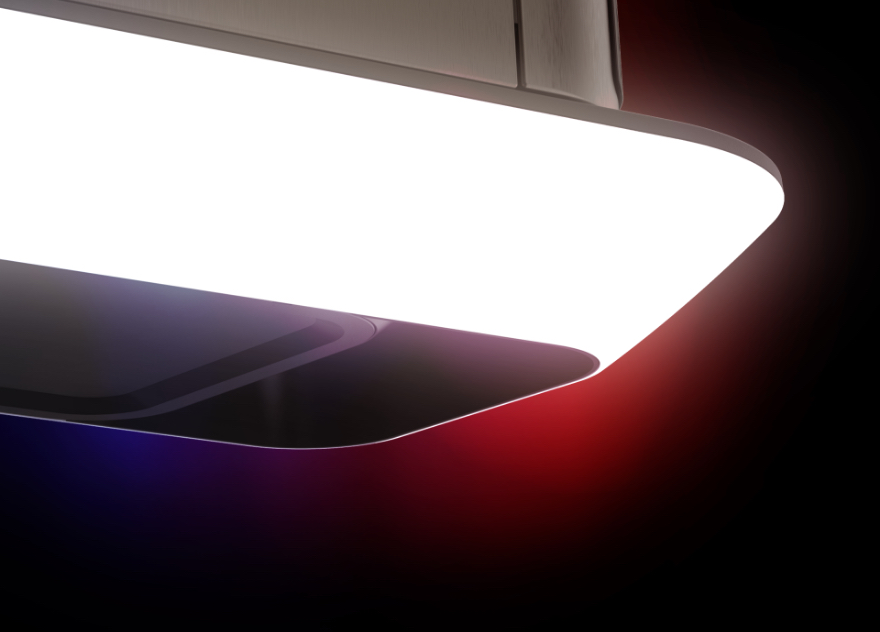 Built-In Camera
Stop imagining and see what's going on in your garage. Free real-time video monitoring lets you see what's happening whether you're at the office or on vacation. View past activity with either a 7-day or 30-day video storage option–available via a monthly subscription. Plus, with 2-way audio you can tell your neighbor where to find the ladder or welcome the kids home with 2-way communication.
Integrated Battery Backup
No power? No problem. During a power outage, access to or from your garage may be critical. Integrated Battery Backup gives you peace of mind that you can get in and out when the power is down. This feature is available in our three of our newest Next Gen openers.
Know Right Away If There Is An Issue
Know right away if there is an issue with your garage door. MyQ will alert you when there is an issue with your garage door system before you try to get in and out of your garage.
87504-267 MODEL
Secure View™ Ultra-Quiet Belt Drive Smart Opener with Camera, LED Corner to Corner Lighting™ and Battery Backup
Built-in camera adds video and 2-way audio communication to the myQ® app.
Control, secure and monitor the garage with the myQ app- anytime, from anywhere.
360° light ring uniformly brightens every corner of the garage with 2,000 lumens of long-lasting LED light.
Battery backup lets you get in and out when the power is down.
Ultra-quiet DC motor and strong belt drive system ensures for comfortable living spaces near the garage.
Works with Amazon Key for for convenient and secure In-Garage Delivery of Amazon packages and groceries – watch deliveries happen in real-time.
VIDEO
HD-Quality Video
1080p, glare-resistant, night vision lens auto-adjusts to light levels in the garage to capture everything and anything that passes through the garage.
Live Streaming and Video Storage
View live-streaming video from your garage for free.
Add a myQ Video Storage Subscription to record and save videos for up to 7 or 30 days.
2-Way Audio
Communicate in real time between your garage and your smartphone.
Integrated Camera
Video camera can be manually tilted and rotated 360 degrees to see everything that happens in the garage.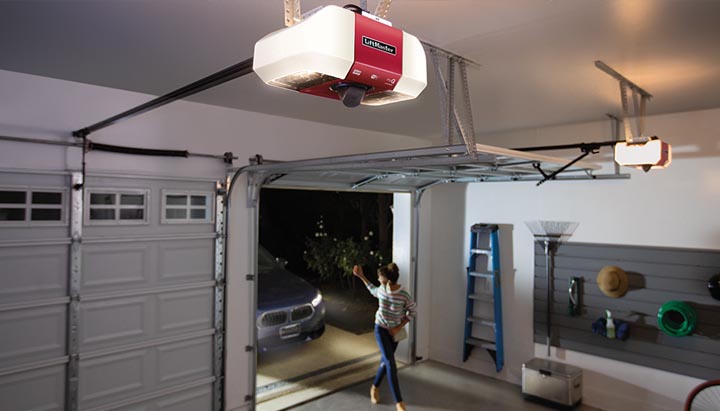 HOME CONNECTIVITY WITH MYQ
Easily Connect
Easily connect to a home network with built-in Wi-Fi®.
Smartphone
Open, close and receive alerts about garage doors on a smartphone.
Syncs With
Syncs with popular smart devices and platforms.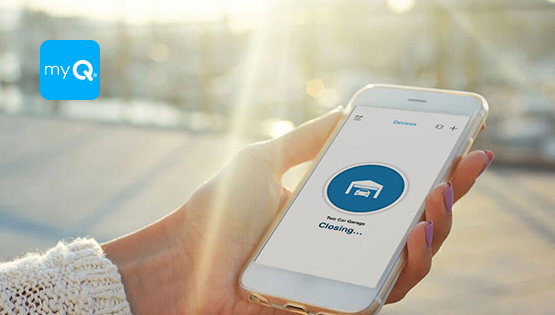 POWER
Virtually Silent
Keep living spaces virtually silent with the extra-strong belt drive system.
Battery Backup
Get in and out when the power's out with Battery Backup.
DC Motor
Enjoy extra peace and quiet with the long-lasting DC motor.
Smooth Start
Extend hardware life and reduce maintenance with smooth start/stop operation.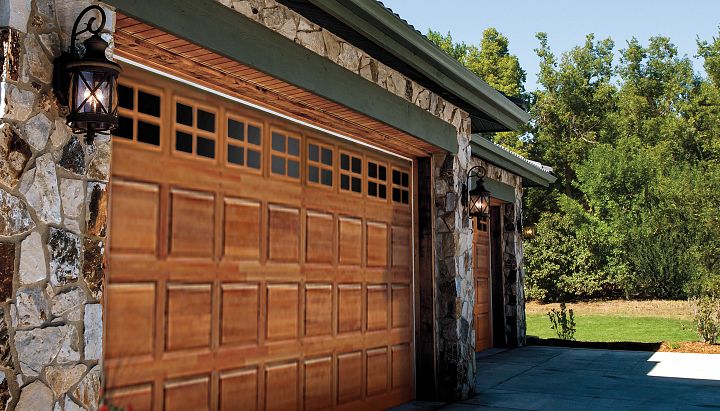 SAFETY AND SECURITY
Safety Sensors
Protect people and vehicles with safety sensors that stop the door from closing on obstructions.
Bright Garage
Walk into a bright garage with motion-detection lighting.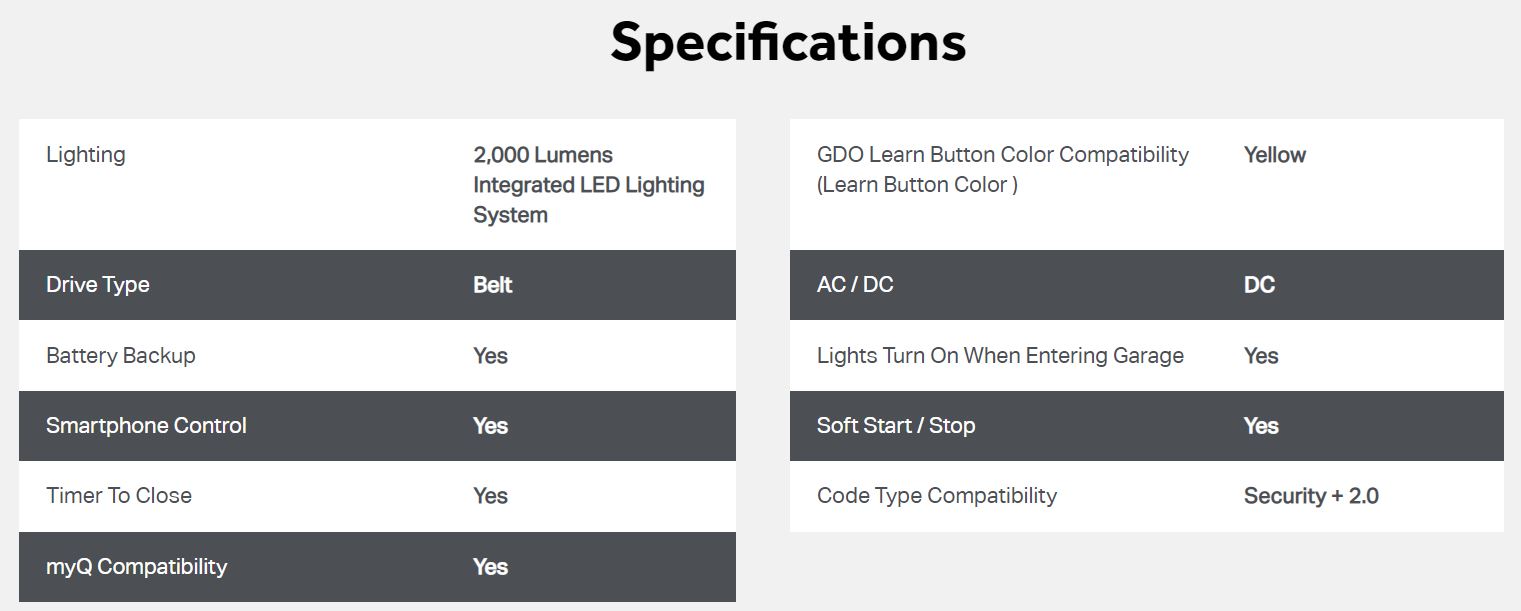 WARRANTY
Accessory Warranty: 1 Year
Belt Warranty: Lifetime
Motor Warranty: Lifetime
Parts Warranty: 5 Year
INCLUDED ACCESSORIES
Smart control panel (880LMW)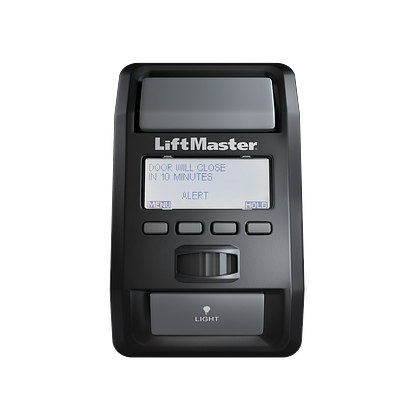 2x 3-button remote controls Security+ 2.0 (893MAX)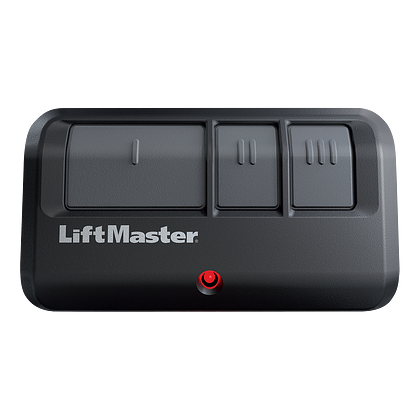 Wireless Keyless Entry System (878MAX)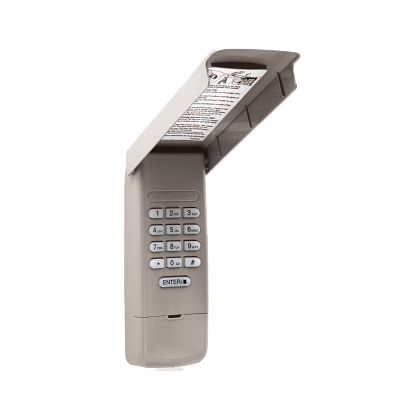 The Protector System
Project an invisible light beam across the garage door opening and automatically reverse the door if anything interrupts the beam while the door is going down. Also equipped with an obstruction sensing technology, the door will reverse if it encounters an object or a person.
OPTIONAL ACCESSORIES
1-button Remote Control (891LM)
Mini 3-button remote control (890MAX)

3-button remote Control (893LM)

Wireless control panel (885LM)
2-Button Universal Remote Control (380UT)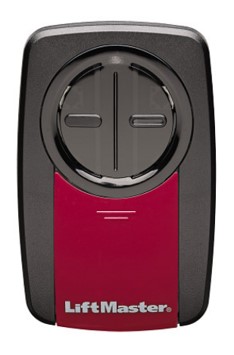 OPTIONAL MYQ ACCESSORIES
MyQ Home Bridge (819LMB)
Remote Light Switch (823LM)
Remote light control (825M)
MyQ Smart Locks
MyQ Remote LED Light (827LM)