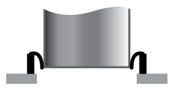 This foam shelter allows full unobstructed access to the rear of trailer.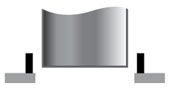 Extend the life of your unit by easily removing the velcro foam face and allowing ventilation to the dock area during summer months.
Fabric
You can customize your dock seal with the ideal fabric for your application from a wide range of colors and fabrics available.
22 oz Hi-Tear Vinyl 
32 oz Hi-Tear Vinyl 
40 oz Hi-Tear Vinyl
Hi-Performance Artic Seal
16 oz Hi-Tear Hypalon
40 oz Hi-Performance Hypalon